The Roaring Twenties was an exuberant era in spite of Prohibition because of Hipflasks, new dances like the Charleston, short skirt, and women shucking Victorian undergarments.
Click for More Pictures.
It was symbolized by the free spirit of the Jazz Age.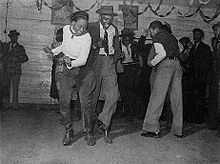 Hemmingway The Sun also Rises was his first novel, Sinclair Lewis ruled the decade with Main Street(1920), Babbitt(1922) Arrowsmith(1925) and his great novel of religious hypocrisy, Elmer Gantry(1927).
Sinclair Lewis 1914 Click for more pictures.
Hemingway with Col. Charles (Buck) T. Lanaham in Germany, 1944, during the fighting in Hürtgenwald after which he became ill with pneumonia.
Amelia Earhart 1928 flight across the Atlantic with two men, became an overnight outspoken American heroine and model of" rugged feminism." Click
Amelia Earhart Los Angeles, 1928, X5665 – 1926 "CIT-9 Safety Plane"
Suffragists won a battle against the church, Constitution, an all male power structure, and the many women who believed women were divinely ordained a second place role. The fight began when Abigail Adams admonished her President husband John to "Remember the Ladies." The equality fight was exemplified by the many women who took part in the 10,000 worker 1860 Lynn Massachusetts shoe worker strike. Men made $3 per week while women earned one dollar. Women were also an active part of the abolitionist movement and were tired of having fewer rights than males.

Quaker Alice Paul had learned the art political confrontation during her British studies. She blamed the Democrats and Windrow Wilson who was against women suffrage and needed the southern male vote for his 1916 reelection. She designed a plan to support Republican candidates. In 1918 the plan worked as a Republican Congress was elected and eventually passed the Nineteenth Amendment. It was introduced by our nation's fist female congresswomen member Jeannette Rankin.
Alice Paul and Helen
Gardener, ca.
1908-1915 Click for slide show.
The July 19, 1948 Seneca Falls Women's Convention began the Women's Movement. American women followed the lead of the far more radical British women who blew up mail boxes, burned buildings, had hunger strikes, and as a result were often imprisoned.
The Great War was over and America wanted a return to isolation and to get back to business. This meant three straight Republican in the White House. Warren Harding started the parade in 1921 by promising a "return to normalcy." He died in office during the Teapot Dome bribery scandal and was replaced in 1923 by Calvin Coolidge. He believed "the business of America is business." Silent Cal wanted to "stay the course." An international hero because as Commerce Secretary during WW I he had administered a food program that fed Europe. Hoover won by a landslide He was helped by a strong economy, an ever increasing stock market, and the belief by some that a vote for Roman Catholic, Democrat Al Smith was a vote for the "Pope," Economic collapse ended the Republican presidential run in 1932 when Democrat Franklin Delano Roosevelt won the election.
FDR inaugural speech told the nation of his "... firm belief that the only thing we have to fear is fear itself." Roosevelt tried many remedies during his now famous first 100 days. Some economic activity returned but unemployment didn't recover until WWII 1938 economic activity.
When the Supreme Court started disallowing much of his "New Deal" legislation FDR fought back by trying to pack the court. He revived an old proposal that would allow him to add a judges for existing judges over 70 years of age. The balance of power defined in the Constitution was important to the Democratic congress. It had taken five years to lose a congressional battle.
The America's System of President Hoover was based upon "Rugged Individualism" as opposed to Europe's "doctrine of paternalism and state socialism. It would be tested with the Great Depression.

The "Coolidge boom" with new companies like General Motors making investors rich caused a Wall Street boom. But all was not as it seemed. Many were borrowing money to invest. "Pools" run by crooked manipulators were the problem. They bought low and drove up the prices among themselves and then lured outside investors into the pool.

The post WWI crash of farm prices and high 1927 unemployment caused a drop in housing starts. By late 1929 steel and auto production were in decline. Europeans began withdrawing from U.S. stocks and people who had bought stock with borrowed money were forced to sell stock to pay loans. What became known as ' "Black Tuesday" ' happened on October 29, 1929.
Crowd at New York's American Union Bank during a bank run
early in the Great Depression. Click for slide show.
What made this depression great was it length and the way it touched so many in a devastating way. Over six thousand bank that had financed the Wall Street boom of the 1920's went bust and with them went the savings of a nation. Millions of Americans who had left the farm for an urbanized , mechanized society lost their job. Reported unemployment reached 25% though some thought it much higher. Henry Ford, who put 75,000 men out of work and on the road as '"hoboes" in search of work. President Hoover, a conservative, thought any too much government assistance was Socialistic eve and Communistic. The situation was made worse in 1930 as the Hawley-Smoot Tariff to keep foreign goods out failed because European countries enacted their own tariffs. By 1931, Europe and "most ominously Germany were sucked into a violent whirlpool of massive unemployment and inflation." The summer of 1932 saw an army of 25,000 unemployed WWI veterans descend on Washington from all around the entire country in search of early payment of their 1945 WWI bonus. Hoover responded by sending General Douglas MacArthur and his young aid Dwight Eisenhower to push them out of town. This was easily accomplished and their village set ablaze to make sure they did not return. The Bonus Army suffered 4 dead, 1,117 injured. There were 689 police injured.
Bonus Army (left) confront police. Click for show.
The turmoil in Europe lead to German Fascism which was a military dictatorship built on racisms and powerfully nationalistic foundation with support of the business class. War eventually seemed inevitable and FDR got around an isolationist congress with a Lend-Lease program in which the U.S. lent food and war materials to any country whose defense was deemed vital. The materials could be returned in kind after the war.
Eventually we entered what became known as WWII. It ended when President Truman made the very difficult and complicated decision to drop two atomic bombs on Japan. The war cost over 50 million lives. Russia lost the about 7.5 million soldiers and about 23 million civilians. Germany's "final solutions" killed 6 million Jews and millions of Slavs, Eastern Europeans, Gypsies, and homosexuals. U.S. solders deaths amounted to 300.000 with nearly 700,000
Sacco and Vanzetti were quickly arrested for a 1920 Braintree, Massachusetts robbery. They had these strike against them. They were Italian, immigrants, and anarchists. The judge quickly tried "those anarchist bastards." Executed occurred 1927 though years later FBI ballistics indicated Socca was probably guilty and Vanzetti was not guilty.
The country was in an anti communist frenzy equal to the one to be caused by Senator McCarthy thirty years later. This one began in 1919 after President Wilson's attorney general Mitchell Palmer had a bomb go off in front of his house. A month earlier bombs had been sent to homes of prominent men including J.D. Rockefeller and J.P. Morgan. The economic dislocation that typically follows a war meant high inflation, unemployment labor unrest. Attorney General Palmer set up the Radical Division run by supercharged anti- Communist J. Edgar Herbert Hoover. Mass arrests and deportation followed. Eventually immigration was cut drastically and somewhat limited to white Angel-Saxons from Great Britain
Were these riots or "ethnic cleansing?"
Tulsa, Oklahoma was a fertile recruiting home for the Ku Klux Klan and the scene of massive 1921 race riot. Blacks, some recently discharged veterans, tried to stop accused Dick Rowland from being lynched. He was eventually released when the women involved would not press chargers. But this was after shots were fired and 10,000 whites, fully backed by the police, went wild. More than 1,200 black homes were burned! Close to three hundred people died. Insurance companies refused to pay for fire losses and all newspaper accounts were cleaned out to remove evidence. It would be yeas before the outside world new of the slaughter.
Click for a slide show.
A similar event happened in the Rosewood, Florida massacre where the small, mostly black town was practically wiped out. Several blacks were lynched and six blacks and two whites were killed. As in Tulsa, memory of the event was soon erased in a ..."conspiracy of silence, shame, and fear."
Sarah Carrier's house where two African-Americans and two whites were killed in Rosewood in January 1923. Click