Alexander Hamilton the first secretary of the treasury of the United States, who made the classic case for the protection of "infant industries..." Adam Smith argued that free trade between nations always produced mutual benefits. Hamilton countered this tradition. He maintained the situation is different when some nations are less economically developed, Government must protect new industries.

Tocqueville characterized an equality of legal condition, one without the inherited hierarchies of European society. Americans were more anxious about their status and believe that they can change that status by getting rich. He individualism and materialism, and the countervailing influence of republican institutions and religion. Short-sighted self-interest is transformed into what he called "self-interest rightly understood."

Marx provides a searing portrait of the degradation of labor in the industrial factory would cause a revolt but he overlooked the trends that counteracted his theory. He foresaw a worker utopia but provided no directions for achievement.

Schumpeter focused on entrepreneurial capitalism was characterized by "creative destruction," in which new products business activities displace older forms creates widespread resentment against capitalism.

Lenin felt the revolutionary consciousness of Marx required the direction of professional revolutionaries.

S

hortly after the victory of the Bolsheviks, the Viennese economist

Ludwig von Mises believed without a market mechanism, socialism would founder on the problems of information and initiative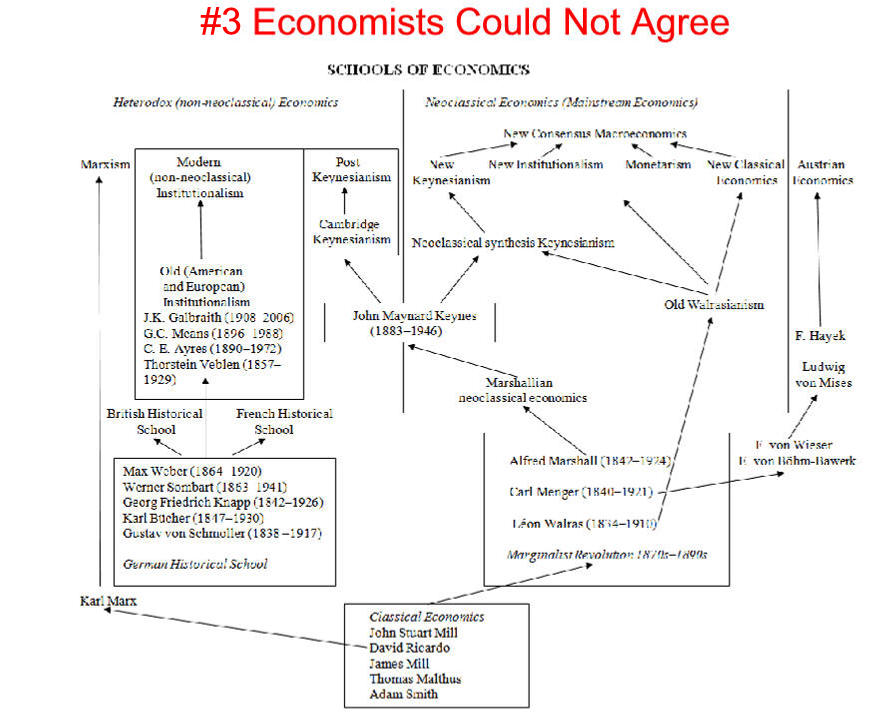 Hayek explored the ways in which the market not only coordinates information but also leads to the discovery of new knowledge. In

The Road to Serfdom (1944), Hayek also presented a theory of fascism as the socialism of the lower middle classes that had lost out to capitalist development. He developed a liberal critique of the welfare state and its premise that the economy ought to embody social justice.

He argued capitalism embodied few common purposes and allowed individuals for various goals. He criticized attempts to create equality of opportunity would lead to an ongoing expansion of the state and a diminution of the freedom of the individual.

Schumpeter felt capitalism would give way to socialism not because of capitalism's failures, but despite its economic successes. Intellectuals who thrived by offering radical criticism, would undermine capitalism. His real message was that socialism would have few advantages while capitalism had many advantages that its critics overlooked.

Marcuse argued that in advanced capitalist societies people were enchained by affluence, new consumer and were psychological manipulation. Superficial satisfaction replaced humane and fulfillment alternatives

Bell, Daniel revived the "eroding foundations" argument in new forms. contemporary capitalism—based upon advertising, new forms of entertainment, and expanding credit—increasingly promoted hedonism and irresponsibility, undermining the work ethic, frugality, and deferred gratification on which capitalism depends.

Buchanan examined the tensions between capitalism and democracy by critiquing Keynesianism based public choice theory, while Olson explained how the logic of collective action could lead to economic stagnation.

Gellner explored how the development of capitalism also led to the development of nationalism which led to changes in personal identity. A world of nation-states from a world of empires resulted.