1900's
First public community college

First junior high school improves high school graduation rates.
1910's
First Montessori school

Cooperative extension services and federal funding added
to grants universities which began on 1860's.
Agricultural and vocational education provided
federal funding until 1997 when programs were
unified to provide one-stop shopping.
Transportation funding for school children
provided by all states. Editor's Note: As late as
the mid 1950's some elementary students living within
about a 30 minute walk of school couldn't take the bus.
1920's
First educationally oriented nursery schools
1930's
Limiting child labor in non-agricultural jobs
increased education levels.
Percentage of persons 14 years old and over who were illiterate
(unable to read or write in any language), by race and nativity:
1870 to 1979
Year
Total
White
Black and other
Total
Native
Foreign-born
1870
20.0
11.5
–
–
79.9
1900
10.7
6.2
4.6
12.9
44.5
1910
7.7
5.0
3.0
12.7
30.5
1920
6.0
4.0
2.0
13.1
23.0
1930
4.3
3.0
1.6
10.8
16.4
1940
2.9
2.0
1.1
9.0
11.5
1947
2.7
1.8
–
–
11.0
1952
2.5
1.8
–
–
10.2
1959
2.2
1.6
–
–
7.5
1979
0.6
0.4
–
–
1.6 *
* Based on black population only
SOURCE: U.S. Department of Commerce, Bureau of the Census, Historical Statistics of the United States, Colonial Times to 1970; and Current Population Reports, Series P-23, Ancestry and Language in the United States: November 1979. (This table was prepared in September 1992.)
College and Head Start Get Governmental Attention
1940's
GI education benefits
ended long-standing college only for the wealthy.
Increased college and free CC education become important goals.
MBA popularized
when former U.S. Air Force engineering oriented Whiz Kids
needed business and management education
to properly reorganizing Ford Motor Company.
1950's
Federal funding increased
for science, math and foreign language education
as in 1957 a Sputnik Reaction Sputnik heighted the Cold War.
1960's
College enrollments expanded
because of increased Baby Boomer demand and some HS graduates
hope for a Vietnam War education deferment.
Head Start
began with eight-week summer programs
to provide low-income child assistance.
1970's
Private colleges begin an expanded marketing mix
with evening programs, credit for life experience,
non-credit programs for business and increased foreign
student enrollments. Cash was maximized with
the help of enrollment consultants who design
cost affective student programs, designed enhanced
promotional materials to maximize college revenues
and to developed many a multi-tiered tuition
pricing systems. These schemes increased tuition more than
needed with less desirable students paying 100% and their
excess tuition used to provide grant to for more desirable students.
Tuition increases began to increase dramatically as amounts charged became a function of what a student could pay plus what they could borrow from government sponsored low interest rate deferred loan programs. Eventually federal Pell Grants were added to the pie.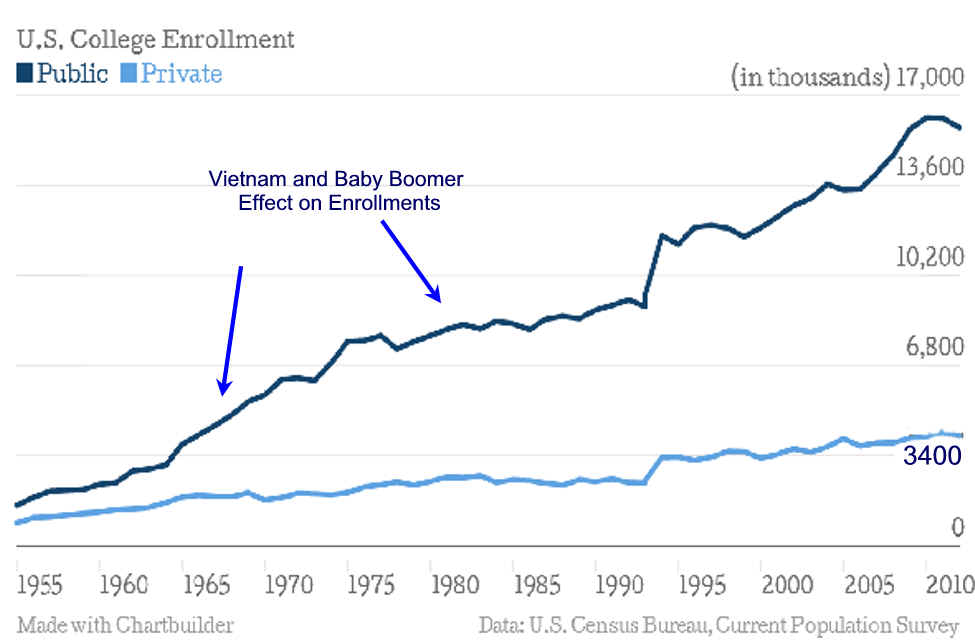 In 1962
, President John F. Kennedy issued Executive Order 10988. That famous order led to state laws permitting t
he unionization of public employees

In 1969, the U.S. Supreme Court, in Tinker v. Des Moines Independent Community School District, ruled that the Constitution forbids local schools from suspending students who bring political protest inside the schools. In his dissent, Justice Black wrote: "This case, wholly without constitutional reasons in my judgment, subjects all the public schools in the country to the whims and caprices of their loudest-mouthed, but maybe not their brightest, students." Now we know: He was right
Two years later
, in
Goss v. Lopez
, the Court
established and enumerated the due-process procedures to which a student suspended for less than 10 days is entitled
. In dissent, Justice Powell wrote: "One who does not comprehend the meaning and necessity for discipline is handicapped not merely in his education but throughout his subsequent life."
In the years since
, courts and legislatures gave the neighborhood school yet another big legal obligation:
Mainstream and educate severely disabled students
.

We now have "
The Language Police,
" education historian Diane Ravitch's meticulous but horrifying narrative of how the major textbook publishers, the testing companies and state education departments have
reduced what public-school kids learn to politically correct, politically laughable pabulum and swill
.
Homeschooling and Teacher Education
Become Big Business
1980's
Teach Your Own: A Hopeful Path for Education
grew homeschooling with states helping by
lowered education compliance standards.
Masters Teaching
programs fostered teaching improvement
and made government paid summer workshops popular.
A Nation at Risk
increased the awareness of public education needs
and teacher training were initiated in response to .

Consultants said computers could help
so governments provide more computers
and teacher computer education.
1990's
Charter school movement
in Minnesota's creates a new industry.
Common curriculum and statewide tests
began in Massachusetts with a comprehensive Assessment System.
Universal preschool
to all four year olds became available in Georgia.