Evaluating U.S. Education
Prelude: Some schools are doing a good job with Individualized Curriculum because teachers manage rather than just lecture.
How To Help Every Child Fulfill Their Potential and Speech
videos are from Royal Society for Arts, Manufactures and Commerce
Human Capital and the Role of Education 20 min. video
University of the Witwatersrand Johannesburg, South Africa
Public Education
Homework an Unnecessary Evil Surprising Findings
The Long Shadow of Race, Class and Privilege in Baltimore 1 of 5
by Karl L. Alexander Johns Hopkins University
A Statistician's Analysis of IQ, Heredity and Education
Charter Schools
What We Can Learn From Closure Of Charter School ,,,
Testing
LONG TERM TESTING RESULTS
Tests stay same, scores slightly up. tests get harder stagnate.
Psychologists studied 5,000 genius kids for 45 years,
here are their 6 key takeaways
1992_National Adult Literacy Survey
Massachusetts, Our Best PISA 2012 State,
Scored Poorly in Mathematics, Or Did They?

Exam Schools

make little academic difference
Higher Education
Not All College Majors Are Created Equal
American Higher Education Turned False Promise
America's Most Overrated Product-Higher Education
from Marty Nemko
2014 Class Continues Underemployment Trend
Debt Causes Millennia's to Regret Going to College
Media, Political, and Educator Misrepresentations
The Job Training Charade
Five Bad Education Assumptions the Media Keeps Recycling
GED Doesn't Affect Employment and Earnings
Big Bad Decisions Have Created Big Bad Schools
political protest, less discipline added responsibilities
Debt and Grade Inflation Problem
1. Mark Cuban Bloomberg Interview:
Future of Education

"Johnson: So essentially what you're making the case for is education and job training for grown ups.
Cuban: No, no. I think that won't matter.
What are you going to go back and learn to do?
Johnson: What it takes, right? Whether it's finance, whether it's software programming.
Cuban: No finance. That's the easiest thing — you just take the data have it spit out whatever you need.
I personally think there's going to be a greater demand in 10 years for liberal arts majors than there were for programming majors and maybe even engineering, because when the data is all being spit out for you, options are being spit out for you, you need a different perspective in order to have a different view of the data. And so having someone who is more of a freer thinker.
Cuban's forecast of the skills needed to succeed in the future echoes that of computer science and higher education experts who believe people with "soft skills," like adaptability and communication, will have the advantage in an automated workforce. Cuban highlighted English, philosophy, and foreign language majors as just some of the majors that will do well in the future job market. "

Michael Lewis, Princeton Art Major agrees with Mark Kuban/

Mark Blyth on Encouraging Technology.
2. Mark Cuban Takes on
Obama and Trump
The Coming Meltdown in College Education &
Why The Economy Won't Get Better Any Time Soon
"The President [Obama] has introduced programs that try to reward schools that don't raise tuition and costs." Mark Cuban feels this will not work. "Right now there is a never ending supply of buyers." who borrow heavily and then cannot flip "there college loans for that" great job you are going to get when you graduate."
Mark believes "BRANDED schools are popping up that will offer better educations for far, far less and create better job opportunities." "Its just a matter of time until we see the same meltdown [as in housing] in traditional college education." "I include the Online For Profit Mills that live off of the government delivering student loans as part of traditional education." "So until we get the meltdown in college education, don't expect much improvement in the economy. Who gets elected won't make a dang bit of difference." See Mark Cuban's Educational Guidance Ignored by Two Presidents
Proposed Education Manifesto
Updated 6/1/17 Please
Part 1 Opinions Matter
Historical Observations
from Confucius to Summers
Current Leaders Advise
from Ten Experts
Part 2 Education Truths

suggestions to these Axiom and Postulate antonw@ix.netcom.com
Part 3
Adjustments Needed

World Changed, Good Jobs Disappeared
Part 4 Implementation Goals
Local Community Prioritize Goals
Educating the Class of 2034 Goa
Laboratories of democracy approach
approach
Contact
Walter Antoniotti antonw@ix.netcom.com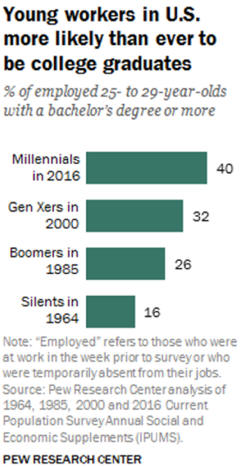 Editor's Note: There has not been a significant increase in the percentage of careers requiring a Bachelor's Degree.
See Economics of a College Education
What Should Education Accomplish
Education in a World of Multiple Intelligence