VI. Political Systems
A. The Basics Video 3:28
B. Republics exist when governmental power resides in
the a constitutionally determined government which
is ruled by elected leaders run according to law (from
Latin: res publica) resulting in individual and minority
protected from the majority.
1. There are many application of Republican concept. In the
U.S. property rights are strongly associated with a Republic.
2. To John Adams it was "a government, in which all men,
rich and poor, magistrates and subjects, officers and
people, masters and servants, the first citizen and the
last, are equally subject to the laws."[27]
3. Law may be determined with a direct democracy also
known as pure democracy in which voters vote on
policy initiatives directly or an indirect democracy or
representative democracy as in the U.S.
where citizens elect officials to make on their behalf.
a. The 1911 17th Amendment moved the election of
U.S. Senators from the house of Representatives to
voters which was a movement toward direct
democracy. The 1919 19th Amendment and 1971
26th Amendment expanded the electorate thus moving
the U.S. closer to being a Republic as the
electorate for a larger group of "people."
b. Removal of the Electoral College from the presidential
election process favored by some would move the
process closer to the people which is Republicanism.
It would be a move toward direct democracy because
of majority rules. This move would make many
founding fathers unhappy because they feared
anarchy especially after the French Revolution.
c. The U.S. is basically a Republic though process
often allows a democratic majority to rule.
1. The Constitution protects the minority which is a
Republican principle. The Supreme Court follows
the democratic majority rule principle.
2. People make up the electorate which has changed
continually both legally and in practice making our
Republic somewhat dynamic. Editors Note: Voter
rules are again a hot topic in 2015.
3. In United States v. Cruikshank (1875) the court ruled
that the "equal citizens" were inherent to the idea of a
republic.
C. Democracy exists when governmental power resides
in the a constitutionally determined electorate with
equal say in determining the majority. It makes political
decisions such that the majority's power is absolute
and unlimited.

1. Types of Democracy
a. Presidential Democracy has a president and the
legislative body and their functions are separated
providing checks and balances to limit their power.
b. Ten American Misconceptions about Democracy
from econintersect
2. In a Parliamentary Democracy as practiced in Great
Brittan, the executive branch derives its legitimacy from and
from and is held accountable to the legislature (parliament).
a. The executive and legislative branches are thus
interconnected.
b. Head of state is normally a different person from
the head of government called a prime minister and
is appointed from the majority party or from a
coalition of parties needed to form a government.
Heads of state have varying digress political
responsibility. It England the Queen has
ceremonial responsibilities.
c. W. Wilson Contrasts Democratic Republic
and a Parliamentary Democracy
3. History of Democracy
a. Overview from Wiki
b. Magna carta at 800, still enjoying freedoms won
c. Origin of Democracy video from Documentary Films
d. Athens-The Truth About Democracy video from DF
e. The War On Democracy video, DF
4. Is democracy, like communism, a failed doctrine?
a. Towards An Ideal Form of Government
b. We, the Intelligent People of the United States ...
c. Three New Kingdoms.
d. Videos
1. Terminal Democracy Documentary Film
2. After Democracy Documentary Film
3. Legalize Democracy Documentary Film
4. Republic vs. Democracy
a. In a republic the sovereign is the individual,
it is government of the people. In a democracy,
the sovereign is the group, the majority, it is
government by the people.
b. Republic vs. Democracy and other governments 10.35
c. An Important Distinction: Democracy vs. Republic
d. Republic vs. Democracy
e. Why faster growth with a democratic presidents-
timing is everything
f. Building a Democratic Republic
5. Democracy and Capitalism
a. Pyramid Theory Looks at Capitalism as Practiced in
the US Democracy.
b. Trading Democracy for Corporate Rule Part 1
video from Documentary Films
D. Federalism divides powers between member units
so that federal political order is non-centralized, often
constitutionally, between at least two levels so that units
at each level have some final authority and can be self
governing in some issue area.
1. Federalism in the United States
2. States' Rights Controversy
3. Federalism: National vs. State Government
4. A conservative look at Federalism video
5. A liberal look at Federalism
6. Revolution of 1800 began a 200 plus year battle
concerning Federal Government power. Editors
Note: Secretary of the Treasury Alexander Hamilton
orchestrated the first federal tax on imports in 1789
to pay Revolutionary War debt piled up by both state
and federal governments. Relative to GDP, it was the
largest federal debt to exist until 1933 when a revenue
collapse caused D3 (deep-do-do). Hamilton began
the practices of increasing taxes (though not enough)
to pay for war, paying interest and paying principle over
a number of years. The practice of refinancing principal
began after WWI. Some call this passing debt to our
children but it has been 100 years and none has been
paid so far, The practice of not increasing taxes to pay
for war started with Bush II when he cut taxes while
starting two wars and increasing Medicare. Hamilton
(to the dismay of Jefferson) also began the practices
of the federal government paying state debt with many
states showing their appreciation by telling the federal
government to stay out of state business. This practice
continues today. Source
E. Sundry Systems
1. Commonwealth is a political community founded for
the common good.
2. Oligarchy power effectively rests with a small number
of people.
a. US an oligarchy Northwestern study concludes
b. German Oligarchs financed Hitler.
3. Polyarchy has decentralized rule where many smaller
governments tailored to the needs and desires of the
local populations.
4. Fascism, a form of is a form of radical authoritarian
nationalism is considered by some to be right-wing as
it is social conservatism and uses authoritarian means
to oppose egalitarianism.
5. Totalitarianism the state holds total authority over
society and seeks to control all aspects of public
and private life.
6. Dictatorship rules by a few or one person. Germany had
Hitler as a dictator, he controlled a few advisors, and they
instituted a strongly nationalistic totalitarian state.
Thoughts of our Founding Fathers toward a Democracy varied dramatically. Federalist George Cabot of Massachusetts feared ..."the terrible evils of democracy," and felt Jefferson was unstoppable,..." From p368 of Thomas Jefferson The Art of Power, 2012, a biography by Jon Meacham as summarized by Walter Antoniotti

Democracy and a Republics are often used interchangeably. Source

Current Political Economy Questions may substantiate that democracy could not control government spending.
Universal male suffrage began in 1884 France and was an important milestone in the history of democracy.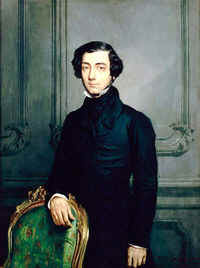 Alexis de Tocqueville
toured the U.S. and made some salient observations about democracy.
Alexis de Tocqueville
On Majority Rule and Mediocrity