Source: https://www.visualcapitalist.com/violence-disrupting-global-economy/
Click here for Historical Infographic Post Listing
Note: Decision theory states that outliners should be ignored.
Unless the recent increase in terror continue, there may be other ways to increase U.S. Wellbeing.
See Have We Become Too Paranoid About Mass Shootings?
Route 91 Harvest music festival, Las Vegas, October 2, 2017: 58 killed, 527 injured.
Pulse, Orlando, Fla., June 2016: 49 killed and more than 50 injured.
Virginia Tech, Blacksburg, Va., April 2007: 32 killed and 17 injured on campus.
Sandy Hook Elementary School, Newtown, Conn., December 2012: 26 killed.
First Baptist Church, Sutherland Springs, Texas, November 2017: 26 killed.
Luby's Cafeteria, Killeen, Texas, October 1991: 23 killed.
McDonald's, San Ysidro, Calif., July 1984: 21 killed.
Wal-Mart, El Paso, Texas, August 3, 2019: At least 20 killed, 26 injured.
Marjory Stoneman Douglas High School, Parkland, Fla., February 2018: 17 killed.
University of Texas Tower, Austin, Texas, August 1966: 16 killed around campus.
Inland Regional Center, San Bernardino, Calif., December 2015: 14 killed.
Edmond post office, Edmond, Okla., August 1986: 14 killed.
Fort Hood, Fort Hood, Texas, November 2009: 13 killed.
Columbine High School, Littleton, Colo., April 1999: 13 killed.
Binghamton Civic Association, Binghamton, N.Y., April 2009: 13 killed.
New Jersey neighborhood and local shops, Camden, N.J. September 1949: 13 killed.
Schoolhouse Lane neighborhood and Heather Highlands Mobile Home Village, Wilkes-Barre, Pa., September 1982: 13 killed.
Wah Mee club in the Louisa hotel, Seattle, Wash., February 1983: 13 killed.
Century 16 movie theater, Aurora, Colo., July 2012: 12 killed, 58 wounded.
Navy Yard, Washington, D.C., September 2013: 12 killed, 8 wounded.
The Borderline Bar & Grill, Thousand Oaks, Calif., November 2018: 12 killed, several wounded.
Virginia Beach Municipal Center, Virginia Beach, Va., May 31, 2019: 12 killed.
why-is-the-trump-administration-pushing-to-
designate-the-muslin-brotherhood-as-terrorists 5/2/19
Travel Causes Most U.S. Foreign Deaths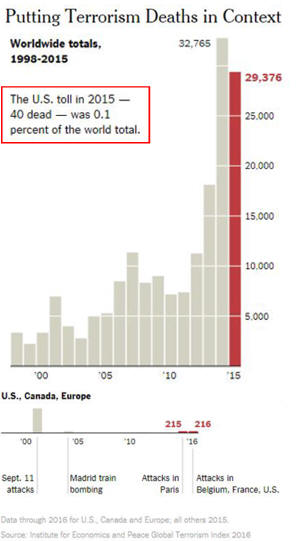 The ISIS corps stem from well beyond the Middle East. Russia is no stranger to terrorism either; more than 3,500 people have died in 800+ attacks in the country since 1970. The latest took place just last week when a bomb exploded in the St. Petersburg subway, killing 14 people. No group has yet claimed responsibility, but Russian state media has suggested links to ISIS or other international terror franchises. The assailant has been identified by Russian authorities as Akbarzhon Dzhalilov, a 22-year-old Russian national born in Kyrgyzstan.

9/11 Attack vs. Pearl Harbor Attack




History Relates to Terrorism

Algerian War for Independence from France
Had Many Atrocities

as both the Algerian National Liberation
and Colonial France contributed 1954 to 1962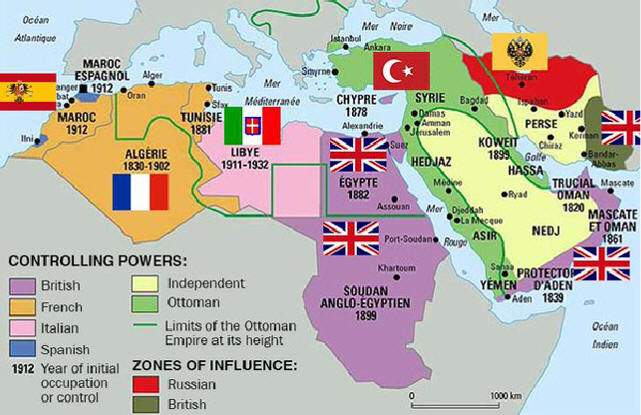 Readings and Other Stuff
UN Details Its Failure to Stop 1995 Bosnian Massacre
Finally Clinton overruled larger Western Europe's large
Democracies and the massacre ended.