People Change?

Seventh grade brought many new friends at Silver Lake Regional High School. It serviced 5 towns that would produce a graduating class of over 140 students. Miss Goldman was my English teacher and as usual, I earned C's and D's. Young and attractive, she often talked about her local corrections officer boyfriend, her family place on Cape Cod, and that she had recently graduated from LSU with a master's degree. Twenty years later, after I interviewed for a mathematic teaching position at Silver Lake, we talked in the faculty lounge. Attractive as ever, she seemed amazed about how much of her personal life she had communicated to our class. I guess what teachers communicate to their students changes over time? Most experienced teachers complain that students have changed, maybe its teacher who change. Miss Goldman never married and eventually became chairperson of Silver Lake's junior high English Department. Is she with us?

Melvin Cherry was well-behaved in elementary school. In junior high he was out of control. While racing down a school corridor chasing Karen Everson, who was not yet the beauty she would become, Melvin crashed into my former forth grad teacher Mrs. Loutz, who was now a guidance counselor. The result was not good. Her hip was broken. She aged substantially during her long covalence. Melvin was shipped off to private school and I imagine Karen grew up more quickly. What ever happened to our junior high version of Bonnie and Clyde?

Always slow to develop, I didn't become a disciplinary terror until in ninth or tenth grade. Nothing serious, just behavior that earned me many two-hour detentions. One beautiful late November day, sitting in detention, I decided to stop said behavior and I did! I had only two more disciplinary problems.

A yardstick fencing dual with friend Ben Barclay resulted in detention. The action would have been overlooked had Ben's father not been a teacher. The arresting officer, a substitute teacher named Mr. Gassett, consulted with Mr. Barclay and a detention was handed out. For the next few months I had to put up with Mr. Barclay's sarcasms. Ben probably had to put up with much more. The other offense occurred an hour after the end of school. My sin was sitting in a car parked on school property smoking a cigarette. A dedicated teacher saw me and the result was a one day suspension. To me it was a day off. My report cards indicate that days off were the norm.

Upon graduation Ben went to U. Mass Amherst, really didn't want to be there, flunked out, and spent four beneficial years working in Air Force medical supply management. Having made the world safe, Ben returned to U. Mass, graduated, worked for a company or two, went to work for a business supply wholesaler, and then with wife Susan, opened Barclay's Business Products. Recently retired, their biggest problem is deciding which of next year's cruises should be extended, choosing a retirement location, and deciding whether they should also keep their current Hingham, Massachusetts home.

While my behavior improved, I didn't become Little Lord Fauntleroy. Michael McGlone and I just couldn't stop talking in our history class. Mike, who would become our senior class president, was a very jovial slacker. He is a good example of why my school grades were so average. Why? I discovered he had a photographic memory when he was the student star of a school assembly featuring a memory expert. A bunch of us volunteered to participate in a memory contest. Why I volunteered to go up on the stage is beyond me. "Stupid is as stupid does!" We were given a few seconds to memorize eight or nine numbers. One at a time we were asked questions like state the numbers, what is the sixth number, state them backwards, state every other number. Very quickly, everyone but Michael sat down. Mike was looking at the numbers so any question was quickly answered. Amazing, how was I to compete with a photographic memory people like Michael in Mr. Frank's history class.

Many years of teaching accounting revealed that quite a few students have extremely good memories; they were in effect, taking open book tests. One such student could have embarrassed me, as if I could be embarrassed! Because of an emergency, I was asked to teach Intermediate Accounting II for Bentley College. Intermediate Accounting is by far the most difficult accounting subject to learn and to teach second semester, never having taught first semester, could have been a disaster. On a number of occasions, a photographic memory student corrected me on what was usually a minor point. He would say "but on page 143 it says ..." The class would look back and sure enough, he was correct. Interestingly, the class figured out that his analytical ability was average and their teacher was good at explaining difficult concepts (the answer book helped!). Said student found applying basic accounting concepts to word problems difficult. He earned an A- but I gave him an A. Why cause problems. Bentley College had a comprehensive student evaluation system and I did very well in this class. But Bentley was moving up the college prestige ladder and MBA's teaching for them would become a thing of the past. Too bad, so sad, I could have used the money. Questions: does an outstanding memory hinder the development of analytical skills? Beyond the basics, should our educational system change from learning the answer to a teacher's questions to students investigating personal areas of interest, determining relevant questions, and then answering these questions?
Upon graduation, Mike went to Northeaster University in hopes of earning one of their outstanding engineering degrees. He didn't last long, married his high school sweetheart Chickee and went to work for his father's moderately successfully surveying company. Mike and Chickee attended the first few 1962 class reunions and then stopped attending.

I visited with them in the mid-nineties. Both were recovering from bypass surgery. This was of interest because Mike's mother and some of his siblings were of poor health, something I learned while visiting a number of times at their small, summer camp like family home. Mike was using public funds to attend college part time in hopes of earning a teaching degree. About ten years later, Mike attended our 45th class reunion. I was very sorry to hear that Chickee had passed, not much else had changed. Later Northeastern University sold an MBA degree to me and many engineers working on "route 128." After year one of a three year program, they increased tuition by fifty percent. Few students cared because they had company reimbursed tuition. For me, it was price gouging. I was trying to pay off a college loans at $53 per month, a 1967 red triumph car loan at $64 per month and the increase in Northeastern monthly bill to $120 was noticed.

A disaster resulted from my gab fest with Michael. We would be separated and I was awarded Mr. Parks, who was legendary for his homework, authoritarianism, and Mr. Barclay's good friend. I walked into my new class and saw very bright students like Alton, Dana, and Daria who had pushed me to the bottom of my elementary school classes and my junior high classes. I realized academic profiling was alive and well and I was in trouble.

Mr. Parks made two statements guaranteeing I would not be a problem. " We do one oral reports in this class and yours is tomorrow. We do four written book report per year in this class and the first of your four is due next Friday." The fact it was the beginning of second term did not seem to matter as the boss does not have to understand and or apply proportional analysis. I was in Deep Do-Do or D-Cubed for short. Made it through, earned a B or B-. I can't remember if it was Mr. Parks who required me to read 1944, but if it was, thanks! I wonder if assigning me to Mr. Parks was random, or another attempt to help me grow up. Is Mr. Parks with us?

Mr. Parks was not the only superior teacher to walk the halls of Silver Lake. Mr. Heufelder was a photo copy of Mr. Parks. A war veteran, who we thought must have fought for the Germans, he had a wooden leg that squeaked as he patrolled our chemistry class. His loud voice scared almost everyone except John Delano and me. We went crazy trying not to laugh at his squeaky leg.

I studied more than usually in chemistry because my younger sister Alma was in Mr. Heufelder's advanced placement chemistry class. I got an A- term one, lower than Alma's grade, but enough to continue my belief that my forth grade teacher Mrs. Loutz was incorrect. Mr. Heufelder gave us a long and difficult Christmas vacation problem assignment. I copied Alma's. This made my B or B- grade goal easier to achieve. Is Mr. Heufelder still with us ?
Kingston Elementary Faculty 1940-50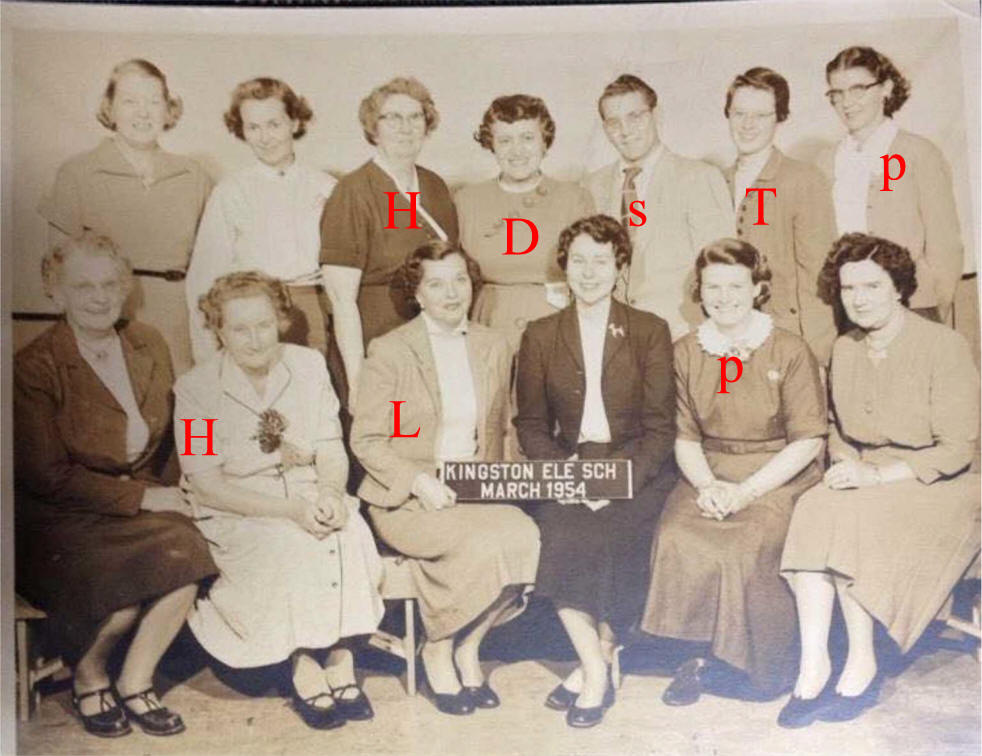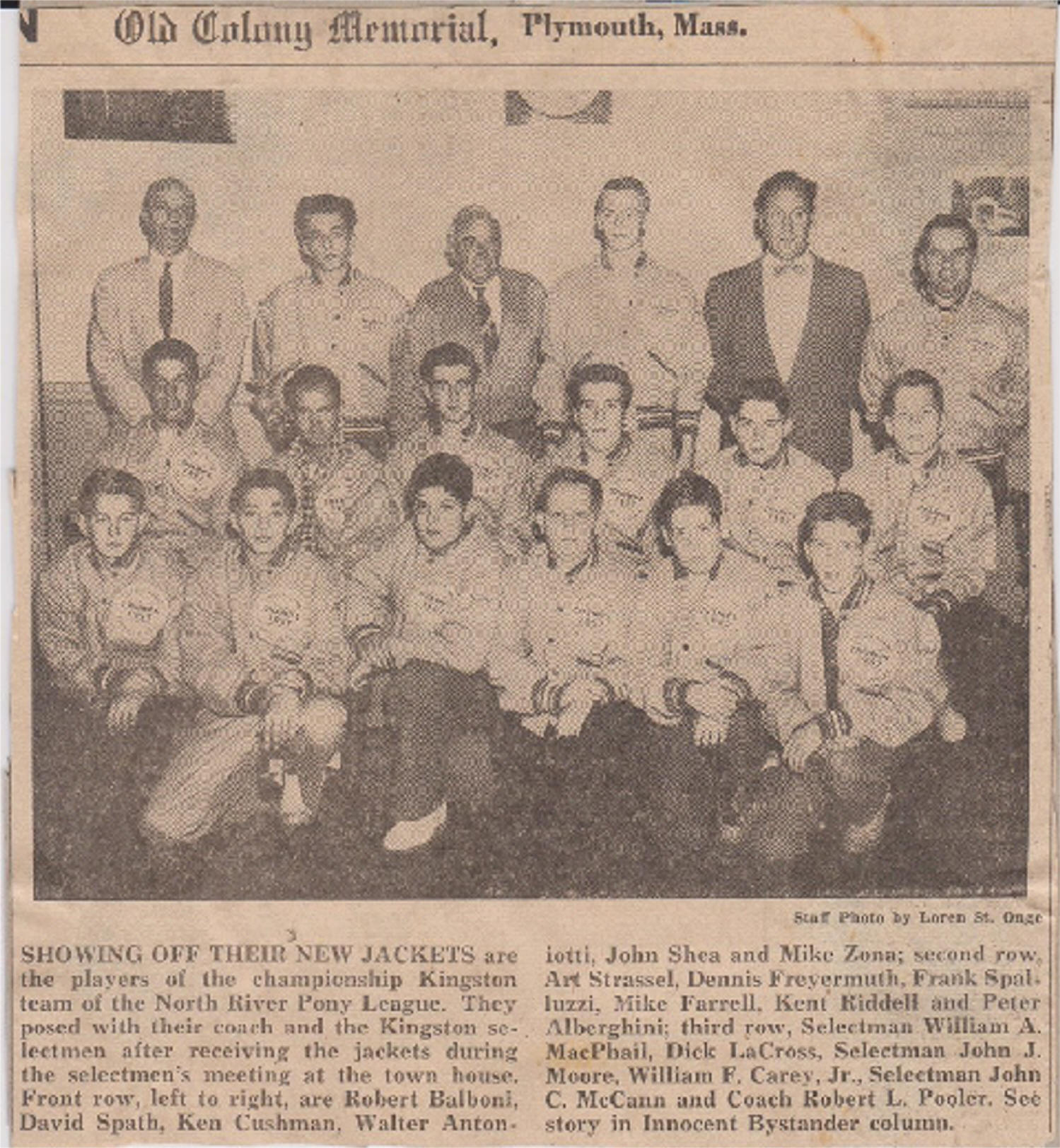 Note the days off. I was not sickly, just didn't like school. Anyone who tries to compete
in an arena where they are average is not maximizing the return on their time investment.
Our flat world is very competition; academically average students need to find their special intelligence.
Hopefully I did?