Learning from Life Experience

Mr. Barroom entered our study hall day one of my junior year looking for two cafeteria monitors and I volunteered. Mr. B had watched my older brother Stanley make an educational U-turn, become the junior class president and eventually a college professor. Maybe Mr. B figured it was my turn for a U-turn.
Data shows that small schools are better.

The other volunteer was star football player Paul Holmes. We joined a group of seniors, two from last year's all junior Eastern Massachusetts Class C Championship basketball team. Our job was to watch the doors, patrol the cafeteria, and generally keep order. Teachers ate lunch in an out-of-the way corner of the cafeteria. Not one incident requiring teacher assistance occurred during my monitor experiences.

Paul and I were monitor co-captains our senior year and we got to pick the other monitors. Choosing our friends resulted in a very effective, diverse group. Alton, like me, was in college prep, as was Ralph, who earned a football scholarship to Northeastern University. General studies students include Dennis, a group of four member, John the drummer, who made Ringo Starr look normal, easy going Bobby, and co- captain Paul. From the vocational curriculum we had my friend Louie, who I worked with summers and Paul's friend Michael. Today, Michael's nick name would be "the Fonz". Also there was Brian, who was in some academic group, I think? Kind of a wheeler dealer, maybe he came in from the outside to get out of the cold and to get the free lunch provided cafeteria monitors. Finally, there was Mickey Lennox, a very popular junior.

The enjoyment from being a monitor was the freedom from being in charge and looking at the girl. I became friendly with a group of freshman male automotive students. I would wonder over by their table whenever they got a little loud and chat for a while. Key to controlling them was letting them call me Bozo. It gave them just enough authority to feel in control. Glad I did because they started "getting on Noel" a really attractive, precocious sophomore. After a day or two their nastiness, I went over and laid down the law. As I walked away, their leader made a wise remark; I turn and with one askance look, put an end to the problem.
Paul was one of Silver Lake's best athletes. A star football player, he was also a good baseball player. According to Howard Gardner, Paul's Bodily Kinesthetic Intelligence was high. His Interpersonal Intelligence was off the charts. It made Paul one of those unique, special people. Together with Pam, his bride of many years raised three wonderful children who produced many grandchildren. This intelligence helped him succeed at a unionized manufacturing job where he became a foreman and provided very well for his family. With the kids grown and producing children who would adore Grandpa Paul, Paul found himself trying to convince his unionized crew to accept a major work place change. They wouldn't, the company moved, Paul decided not to follow, and unemployed resulted. High interpersonal intelligence help Paul find a new job with many golfing perks. Why, because the owner really liked Paul. Academically average, Paul would have made a great elementary school physical education teacher, especially since he did not have any of the alpha male personality traits that sometimes make athletes poor physical education teachers. But all elementary school teachers must have above average academic intelligence. Society's loss. Society tries to destroy the spirit of academically average males who are not interested in academics. Would Paul have succeeded in today's testing environment? Does a bear poop in the woods?
A few years after graduation, Paul became very good friends John Montosi. Years later Paul organized an overnight golf weekend in central Maine. I attended and got to know Mr. Montosi well over the ten or so years we played in the tournament. He revealed a strong Alpha male personality which given his average height, made his outstanding success as high school basketball player and college and football understandable.
Alton started being physically aggressive toward me with paunches on the shoulder, pinching, and other dominating behavior. My summer boss Paul was a pincher and I hated it. But I needed Paul's paycheck, Alton's aggression, not so much. Finally he did it in front of a few other cafeteria monitors, I got really angry and I insisted we have it out in the gym. Football coach Montosi gave us some really big boxing gloves, had his current gym class form a circular boxing ring, and said knock the other guy out of the ring. Two out of three wins. I'm sure that Mr. Montosi recognized Alton as a school tennis team player, it is unknown whether he remembered me as one of the chubby kids who was not coordinated enough, and not strong enough, to clime the ropes in his gyp class. It was obvious that Mr. Montosi thought that Alton, the more athletic, would win. But I was mad, Alton was not mad, and I easily won round one. Alton was now more upset so it took a while, but I won round two. Coach Mortise very, very quickly said three out of five, but it was over. I was no longer upset and had known before fighting that no matter what happened, I couldn't loose. Alton would stop, that was my goal. I don't do suckers bets by allowing pressing of equal value!
Alton married classmate June, who was also in Mr. Park's history class. He took some accounting classes at Bentley College, and eventually decided to make his fortune by sub-contracting the construction of large homes. June became a manager for a major upscale department store. After building his own dream home, Alton decided to retire very early and move to Cape Cod. Retirement didn't last long and he became a manager for the Christmas Tree Company.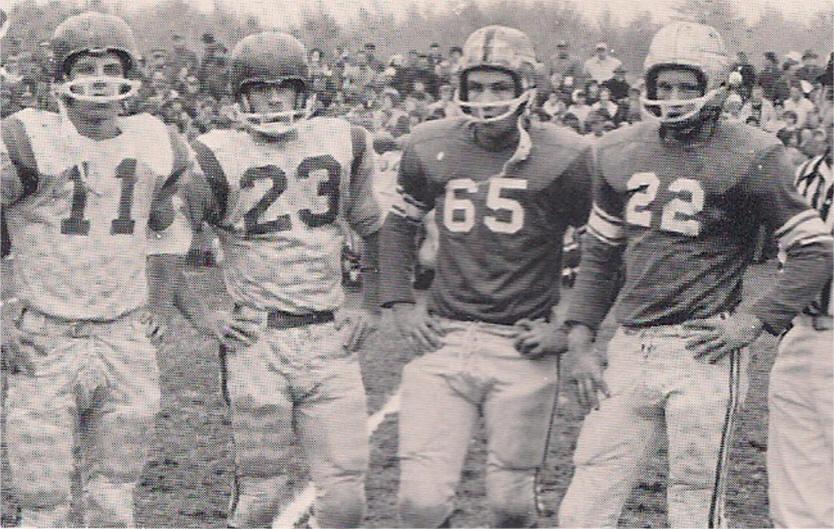 College, "you don't have to go, but you must have the option"

My father Henry never said I should go to college. In fact, given his attitude that college was
for academically superior people, he might have thought I was a poor investment. He insisted I study because people should have options, keep all doors open. It was study or put up with a lot of Henry and I was tired of listening to my brothers put up with Henry. It was easier to study. My history of poor grades kept expectations low and my studying was minimal.

Dad suggested I take College Boards my junior year. Ben and some other friends went to bed early on the night before the test. Me, I went to the Friday night Pembroke dance. Pat would be there! In those days SAT scores were posted on the Guidance Departments bulletin board. People were surprised that I scored over 1,000, the magic number for being able to handle college level work. And this was only my junior year! More than one student and teacher mentioned my good scores. In 1965, SAT test takers were mostly the academically oriented college-prep students. The average score was about 1,000. As time passed many more academically average students took the test and the average score dropped. Like any good marketing company, the SAT people rescaled the test so that 1,000 was again average and more gradates were, by definition, academically prepared for college! The magic of marketing. Remedial help costing much money spent with the College Board people would help a child earn better scores. By the 1980's, because of increased supply, average college graduate income had begun to stagnate, and then to decrease. Over supply was the problem. It continues today. A flat world will make it worse. Too bad, so sad, Mrs. Loutz was correct after all, just early
In January of 1913. I watched a C-Span Book Notes book signing where a women showed extreme exuberance when the author mention an increase in the marginal income tax rate to seventy-five percent. She didn't realize that if allowed to continue, talented medical doctors, scientist, innovators, and others would leave France and the tax revenue would be .75 times zero. She reacted the same way to a large increase in the education budget even though data is emerging that France has a very poor education system. People thinking government can use education to solve income inequality problems while completing disregarding Ayn Rand's ideas concerning economic productivity are doing so at society's peril.

I was not surprised by my relatively high SAT scores. Did Henry know I would do well?. In elementary school my national test scores were always about two years above grade. Dad knew these scores.

My Geometry class took the National Geometry Test near the end of my sophomore year.
I scored in the 80th percentile. Assuming the test cohort consisted of students in the top quarter
of their school population, my 80th percentile converts to 95th percentile of the entire school population. Interestingly, my 1966 Graduate Record Exam test score in business was the 80th percentile and my 1970 Graduate Record Exam math and verbal test scores were each at the 80th percentile. I was pleased with the math score because I was competition against science, math, and engineering graduate. It is scary to think that someone with my ability score so high on the verbal test.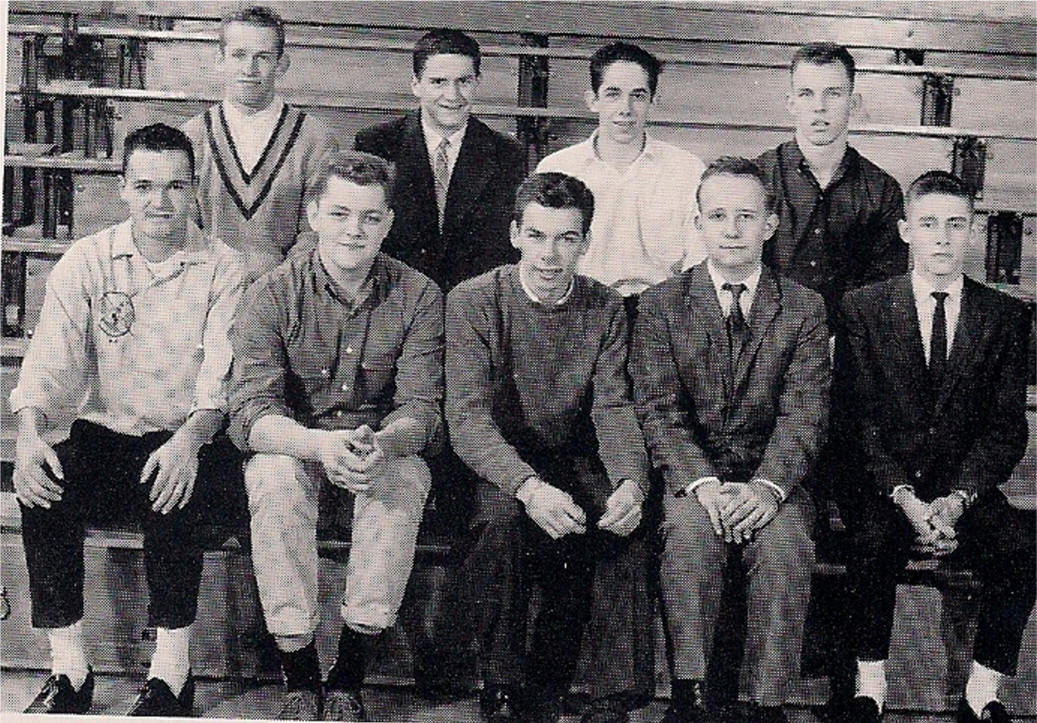 I definitely needed a comb over.