Lecture Notes

I. Business Cycle:
Fluctuating Business Activity

A. Fluctuations follows a cycle

B.

Recession: two consecutive quarters
of negative Real GDP

C.

Is GDP a good measure economic success?
D. Causes


1. Inventory Recession: Excessive optimism causes
inventories to over expand and eventually be worked
down causing a recession. Computers have made
it easier to track inventory and made this type of r
ecessions less likely

2. Endogenous Shock not foreseen by economic models
oil embargo recessions of the 1970's.
Political Economy Stuff
Cycles are a Norm of Capitalism

3. Rolling Recession Downturn is limited to areas or sectors of the economy.
a. Economic activity eventually increases but by then other areas and sectors are in recession.
b. International competition has increased the occurrence of this type of recession as sectors
such as steel, autos, and recently computers have been affected.
4. Balance sheet recession: private sector debt causes a focus on paying down debt
which lowers aggregate demand and substantially lowering economic growth.
a. Causes of the Great Recession
b. An Historical Perspective on the Crisis of 2007-08
c. Often require a central bank to act as a Lender of last resort
5. Innovation Cycle: railroads, computers, bio-technology cause growth/crash
6. Political Events: wars, international trade
7. Misuse of Monetary and Fiscal Policy: government creates, borrows and or
spends an incorrect amount of money to moderate economic activity.
a. Well run economies like Taiwan, Japan and the U.S. are all recently guilty.
b. Some feel Chain's authoritarian government which has successfully navigated growth
for 30 years will again steer clear of catastrophe but Ruchir Sharma's 2016 book
The Rise and Fall of Nations: Ten Rules of Change in the Post-Crisis World', thinks
they are in Deep Do Do, or D3 for math people.
8. Non-cyclical Fluctuations
a. Seasonal variation: Christmas buying rush, spring construction
b. Long-Term Secular Trends: the expansion or contraction in the
level of economic activity over a long period of years (the dark ages, the industrial revolution)
1) Long Waves Theories of Development from Professor Kunter Krumme,
2) Call this a Recession, At Least It is Not the Dark Ages
3) Generations and The Fourth Turning
9. National Bureau of Economic Research determine recessions
10. David Rosenberg key policy determinates
a. Real Business Sales
b. Industrial Production
c. Organic Real Personal Income: PI excluding government transfers
d. Employment
e. inflation matrix excluding imputed government adjustments

11. Abbott and Costello Explain the Unemployment Situation
12. Action to Stop Recent Recessions, NYT 1p
E. Cycle Theory videos
1. Monetarism
2. Keynesian
3. Real Business Cycle
4. Austrian
5. Hyman Minsky
6. Big Cycles Over Last 500 Years
Recoveries
Vary
Recoveries Can Be
Slow and Weak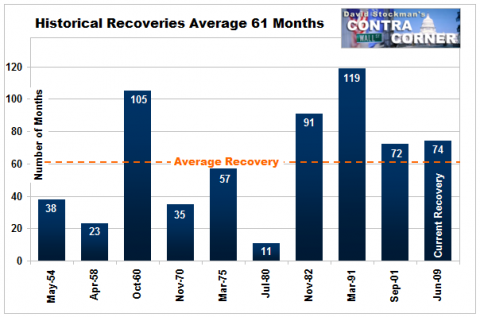 chart-book-the-legacy-of-the-great-recession source=CBPP
Expansions
Tend to be Longer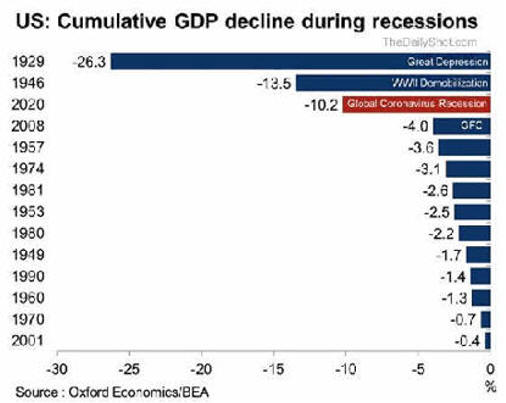 Is Demography the
Destiny of Growth?

Leading Indicators Links
Economic Forecast Outlook Barely Positive is extensive with many graphs 2/16
Leading Economic Indicators 2007/01/leading-economic
Index of Leading Indicators – Premature to Rule out Recession 5 19, 08
LEI and KRWI - It's Different This Time? P. Kasriel Northern Trust, 4/21/07
RECESSION IMMINENT? LEI AND KRWI ARE FLASHING WARNING
Leading indicators a short history of the numbers that rule our world 2/14 NYT