IV. Will U.S. Stay On Top?
Before 1990 Some Predicted Russia Would Passing U.S.
USSR Growth History
In the 1990's it was the European Union
"Although customs duties disappeared in 1968, is not flowing freely across EU borders. The main obstacles are differences in national regulations. The Single European Act of 1986 launches a vast six-year program to sort these out. The Act also gives the European Parliament more say and strengthens EU powers in environmental protection".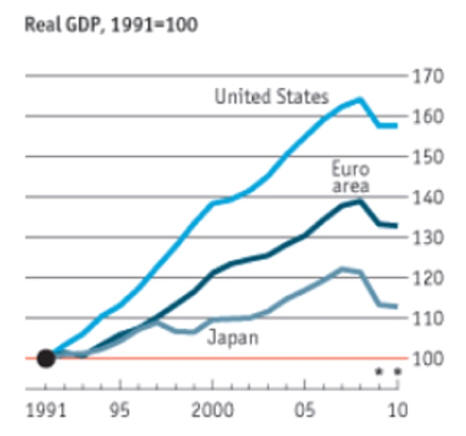 Note how Europe's high growth rate of the 1990's slowed. In the 2010's Europe slumped again and US growth rebounded in a similar fashion as it has in past balance sheet recession.
For a more in depth analysis see koos-balance sheet recession
See
5 Reasons Germany Isn't Suffering in the 21st Century