Few Jobs Require a Degree
Source Fall of 2008 Occupational Outlook Quarterly
"In October 2014, 68.4 percent of 2014 high school graduates were enrolled in colleges or universities, the U.S. Bureau of Labor Statistics reported..." 4/16/15 How many are enrolled to collect Pell Grants for spending money? See Is Financial Aid Welfare?
College Graduate Supply for Most Majors Exceeds Demand
Colleges pushed out graduates even though supply was outstripping demand and fewer student were receiving an economic benefit.
About 41% of our 18- 24-year-olds are enrolled in college. Only 27% of US jobs need formal education beyond HS (chart) so the 14 percentage point oversupply, about 50%, means a wage decreases for many graduates.
Only Best, Brightest, and Most Educated
Benefit Economically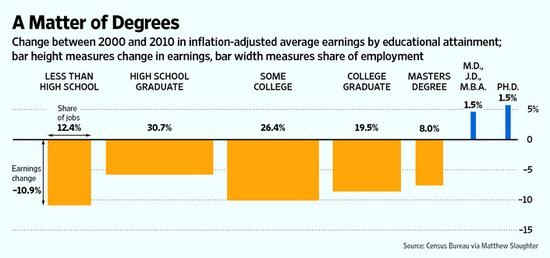 21st Century Companies began paying their stars a lot more than Joe Average. In finance, high tech, and management the spread began to widen between those in the middle and the STARS.