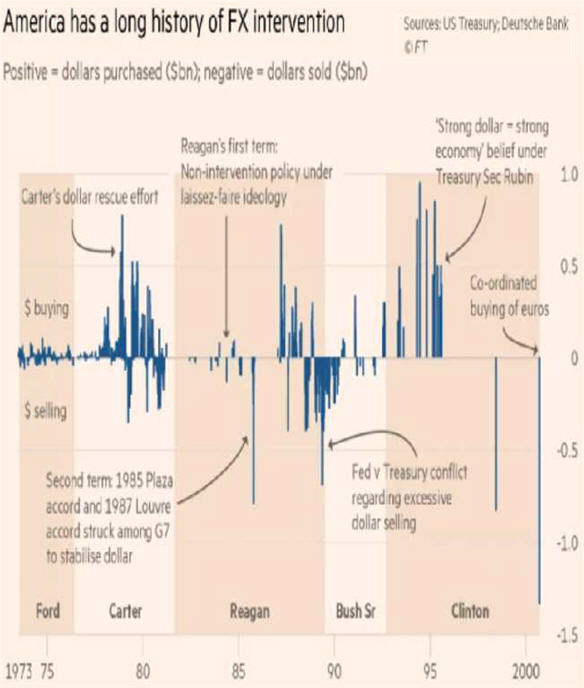 Of Dollars, Debt, and Exorbitant Privilege

Advantages of overvalued dollar for U.S. were cheap energy, cheap imports including foreign travel, low interest rates on all US debt including mortgages and cheaper foreign expansion by US companies. Disadvantage is high valued dollar hurts competitiveness of U.S. exporting companies, companies that compete with imports and anyone working for these companies.
In 2016 the US, a debtor nation brought in $180 billion more than it paid out. China, a creditor nation paid out $50 billion more. source
See Economic Normality 1945-2015 page 2 and World Changed and Good Jobs Disappeared

On the Supply of, and Demand for, U.S. Treasury Debt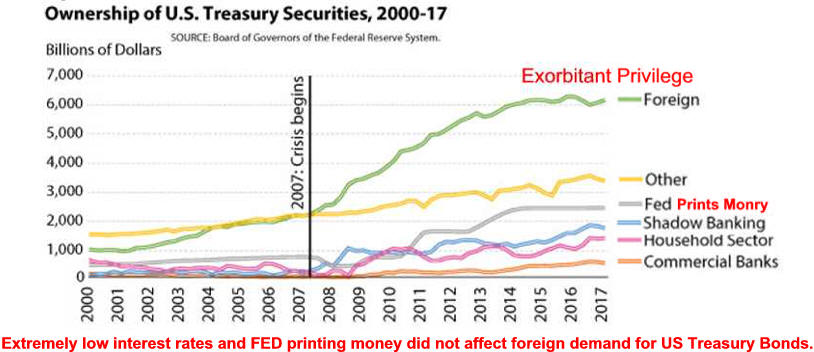 What's good for the global economy (and for many Americans) is bad for U.S. manufacturers and their workers as their products suffered a permanent price disadvantage. For them, the global dollar is not a privilege. It's a stubborn curse. Since 1976, the United States has not had one annual trade surplus. The New Normal of ever increasing manufacturing wages was over, another New Normality had begun. It's trade deficits were not the result of poor U.S. competitiveness. In reality, our deficits were required to supply the world with a currency for international trade and investment. The many advantages of being the world's currency would continue and politicians began looking for solutions to work force problems caused by Free Trade. Source
3. Looking for reasons to be worried?
U.S. companies are warning that currency fluctuations are weighing on their results, raising a red flag for investors heading into the thick of the second-quarter earnings season, Akane Otani reports. A weaker dollar benefits U.S. multinationals by making exports cheaper to foreign buyers and also making their overseas profits look bigger when translated back into the U.S. currency.
But strong economic growth, stable inflation and the Fed's plan to gradually raise short-term interest rates is boosting the greenback. The WSJ Dollar Index, which gauges the U.S. currency against a basket of 16 others, rose to 88.63 Tuesday, its highest level in more than a year.
The Dollar Underpins American Power. Rivals Are Building Workarounds. 5/19
U.S. friends and foes, looking to buck American control over international trade, are developing alternative systems. The catalyst was the Trump administration's decision to again impose trade sanctions on Iran, Justin Scheck and Bradley Hope report.
The U.K., Germany and France are fine-tuning a system to enable trade with Iran without using dollars.
India wasn't happy either. It began using a similar alternative system in November.
China and Russia are striking deals to trade with yuan and rubles instead of dollars.
Global trade runs on dollars and resulting clout has long made allies and enemies vulnerable to U.S. trade sanctions. Dollar's dominance will continues but recent reactions to Trump may diminish the U.S.'s power to impose its policies.
Exorbitant Privileges Continues because the dollar has not faced any significant competition from the Japanese Yen, English Pound , Euro, and Chinese Renminbi because of their weak economies and weak government in relation to US. The Special Drawing Rights (SDR)

system of the International Monetary Fund has not gained traction. For now, no alternatives exist.

Current system is unsustainable according to those experts believing the system favors the United States too much. Alternatives will emerge to correct imbalance existing since the 1971 Nixon shock. Source

But Rivals Have a Way to Go
\

Readings

Positive Dollar Privilege Prediction

China, Russia poised to ditch US dollar for


direct payment system in bid to limit sanctions fallout 11/22/18

Advantages and Disadvantages of Exchange Rate Systems

Exorbitant Privilege: The Rise and Fall of the Dollar


85 min video by author Professor Barry Eichengreen

The Dollar's Privilege Is a Terrible Thing to Waste
Steven Englander, Bloomberg View

3/24/18

" How Tax Reform Will Net the U.S. Big Returns"

In 1971, Nixon suspended convertibility of the dollar to gold, effectively ending the Bretton Woods system.
But even after this, Dollar Privilege Continued.

Loss of U.S. economic dominance has been aided by Trump's lowering our place as Leader of the Free World. This when the U.S. dollar continues its dominate role as does American Exceptionalism.

The European Central Bank the dollar makes up two-thirds of both international debt and global reserves. Oil and gold have long been priced in dollars. Iran, North Korea, and Russia and other developing are terror stricken by the loss of dollar needed to finance the global payments system.

The dollar hegemony may be weakening. Political leaders are pushing back. Paying for European goods bought from European companies should be in Euros, not dollars. China recently challenged the dollar supremacy with a Yuan-based oil futures contract Russia all but eliminated her US dollar based investments because she perceived wreaking dollar.

Upsetting US Actions

Pressuring non-US companies trading with Tehran.

Editor's Note: While most of this by political Trump's posturing and return posturing by our economic adversaries. Foreign leaders posturing began when de Gaulle threw a fit. See Russia, China Rivals or Adversaries?

International Monetary System (%)