Chart 2 ". provides a first approximation of how correcting the 2013 poverty rate for noncash food and housing benefits, refundable tax credits, and upward bias in the CPI-U would change the 2013 poverty rate. With these corrections the official poverty rate falls from 14.5 to 4.8 percent, making the 2013 rate roughly a quarter of the 1964 rate (19.0 percent). If we were to lower the poverty threshold for cohabiting couples to match that for married couples the 2013 poverty rate would have fallen even more. From War on Poverty-Was It Lost NYT 4/2/15 Other Data 1 Data 2 Think different political philosophies use true but not necessarily appropriate data to make their share of the pie. With our obesity problem how could many have one to bed hungry during the Great Recession.
New Norma # 5 Profit
Beating Labor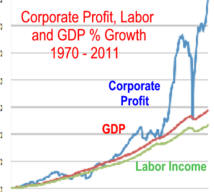 Twenty-first century war expenditures helped profit recover after a dot com dot-com bubble recession, then crash with The Great Recession and then they grew to new heights. US Companies compete very well in a flat world using technology, outsourcing to Asia, Mexico...and by keeping wage increases low. Total compensation has done better though Obama Care has given gave companies an opportunity to again lower compensation. Source More Data 1 Data 2. Think Rust Belt then NAFTA and soon TPP.