I. Measuring Total Economic Activity Review View Entire Chapter 8
A. Gross domestic product (GDP)
1. The sum of all the goods and services produced within an economic unit (country, state)
within a period of time (normally a year)
2. Excludes non-productive transfers
a. Stock market sales
b. Working at home
c. The "Underground Economy" (unreported taxable income)
3. Two approaches to calculating GDP
a. Expenditure approach
1. GDP equals Personal Consumption plus Business Investment plus Government
Spending plus Net Exports (exports minus imports)
2. GDP = C + I + G + XN
3. I is gross investment which is new capital and replacement capital (depreciation)
4. Q1 2010 GDP 3rd revision - 2.7% from the economicpopulist.org blog give some
current information on the national income accounting calculation process.
b. Income approach
1. GDP equals Rent plus Wages plus Interest plus Profits plus Depreciation plus
Indirect Business Taxes plus miscellaneous
2. GDP = R + W + I + P + Acc. Dep. + Ind. Bus. Taxes + Misc.
B. Interpreting national income account data
1. Comparing data over time requires adjusting for inflation, population increases, and number of people working.
2. National income accounts do not consider leisure time.
3. Positive and negative effects of economic activity upon the environment are not measured by national income accounts.
C. Money vs. real GDP (taking inflation out of financial data)
1. A Price Index measures price changes for a basket of commonly used goods over a period of years.
a. One year is chosen as a base year, set equal to 100 and years before and after are expressed as a percent of the base year.
b. For convenience all index calculations are multiplied by 100 allowing the percent sign to be dropped.
c. Two important indexes are the Consumer Price Index (CPI) and the Producer Price Index (PPI) which respectively
measure the inflation associated with consumer and producer goods.
2. An index can be used to determine whether someone's salary, a consumer good, and other items of interest have changed
more or less than inflation.
a. Nominal salary is salary measured in current dollars.
b. Real salary is salary adjusted for inflation.
3. This example uses actual consumer price changes and 1982 as the base year (PB). The item of interest could be
someone's salary, the price of a new car, etc. (PC is price in current year).

I. The Business Cycle Review describe the business activity over time.
View Entire Chapter 9
A. Recession: commonly accepted definition is two consecutive quarters of negative
growth in Real GDP.
B. Why business activity fluctuates
1. Inventory Recession: Excessive optimism causes inventories to over expand and
eventually they must be worked down causing a recession.
2. Rolling Recessions: Economic downturn is limited to areas or sectors of the economy.
3. Innovation Cycle: railroads, computers, bio-technology
4. Political Events: wars, international trade
5. Misuse of Monetary and Fiscal Policy: government creates and/or borrows an
incorrect amount of money
6. Non-cyclical Fluctuations
a. Seasonal variation: Christmas buying rush, spring construction
b. Long-Term Secular Trends: the expansion or contraction in the level of economic
activity over a long period of years (the dark ages, the industrial revolution)
7. Durable Goods have a long useful life (houses, equipment, etc.) Sale of durable goods
contract substantially during a recession as their purchase may be easily postponed.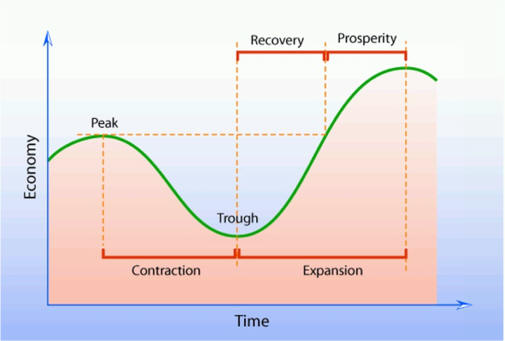 C. Leading, coincidental, and lagging indicators are measures such as the unemployment
rate, which respectively change before, with or after general economic activity. Economists
use to predict future economic activity.
D. Unemployment Types and special topics
1. Frictional is caused by time lags in the operation of labor markets.
a. Workers are between employment because they have been fired, are changing
careers, are seasonal workers, have been temporarily laid off, etc.
b. Short-term, inevitable, temporary, and is eliminated with time.
2. Structural is caused by changes in consumer demand and technology.
a. Result is an oversupply of workers with a particular skill.
b. This unemployment is often concentrated in a particular area, associated with a
particular industry, and is often permanent.
c. Increased economic activity will not decrease this type of unemployment as training
and/or relocation are required.
d. Happened in the 1970's and early 1980's as consumers decided to buy small foreign
built cars and other products produced in the Rust Belt. Now it is happening because
NAFTA and foreign competition are causing industries
to restructuring is needed because of foreign competition.
3. Cyclical
a. Caused by a lack of total demand at the end of an economic expansion
b. Temporary
c. Recession of the early 1990's was due to a drop in demand caused by a debt
buildup in the 1980's by individuals, businesses, and the federal government.
Apprehension caused by high structural unemployment of both blue and white collar
workers slowed the recovery.
d. Recession of 2001 was caused by debt build up of individuals resulting from the
long period of prosperity and the stock market bubble, excess capital investment
caused by Y2K and internet optimism, and September 11.
e. Great Recession of 2008-09 was caused by the end of an excessive building
boom compounded by a banking and stock market crisis.
4. Special topics
a. Natural unemployment (frictional + structural unemployment) is usually 4% to 6%
of the labor force
b. Full employment is when cyclical unemployment equals zero
c Okun's Law: a 1% increase in cyclical unemployment will cause a 1% increase in
cyclical unemployment will cause given a 2.5% annual drop in GNP
1) GNP change = 2.5 (unemployment rate change)
2) If unemployment goes up 2% as it did in the 1990-91 recession then the drop in
GNP would be 2.5 X 2% or 5%.
3). Cost to a 6 trillion dollar economy of 250 million people
(5% X $6,000,000,000,000) / 250,000,000 = $1,200/person/year.
E. Inflation is an increase in prices as measured by a price index such as the
consumer producer index, CPI and the Producer Price Index, PPI.
1. The PPI measures the
change in wholesale prices.
2 The PPI is a leading indicator for CPI as wholesalers can usually pass price
changes on to retailers who pass them to consumer.
a. Recent increases in foreign competition made passing price increases on difficult.
b. The internet had the same kind of affect in the late 1990's.
3. The inflation rate for a year when a basket of consumer goods increase from
$400 to $420 would be calculated as follows.
.
4. Causes of inflation
a. Demand-pull inflation
1. Increases in C + I + G + XN will cause GDP to increase.
2. As the economy nears full employment, the prosperity caused by high
employment increases demand and put upward pressure on prices.
3. When this happens, the economy is said to be overheated.
b. Cost-push inflation
1. As the economy approaches full employment factor resources become scarce
allowing their owners to increase prices.
2. Supply-side shocks can cause high resource prices even if demand for
resources is low, i.e., OPEC's two oil embargoes of the 1970's
5. Economic effect of inflation
a. Both income and resource allocations are affected by inflation as the market tries
to adjust to the loss in value caused by inflation.
1. High gas prices in the 1970's caused a switch to small cars and many people
bought wood stoves.
2. Low gas prices in the 1990's made RV's less expensive to run.
b. Debtors (homeowners, businesses, government) are helped by high inflation
because they pay back with dollars worth less than those borrowed.
c. Creditors are hurt by inflation as they are paid back in less valuable dollars.
d. Those on a fixed income are also hurt by the cheaper dollars.
d. Cost-of-Living Increases (COLA's) were instituted in the 1970's to negate
the severe effects of that period's high inflation.
e. Deflating GDP
1. Inflation can be taken out of growth in GDP by expressing later year production
at earlier year prices.
2. In the following chart, letters Q, P and T are quantity, price per unit
and total respectively.
III. Macro Equilibrium exists when the demand and supply variables affecting total economic
activity are in balance and under no pressure to change. View Entire Chapter 10
A. Macro equilibrium exists even though the more slowly changing variables affecting long-term activity are still
in flux. Said long-term activity is called a long-term secular trend.
B. Aggregate demand, AD, is a schedule matching the Real Gross Domestic Product a country purchases at
various price levels.
1. As prices drop, the amount of real gross domestic product purchased (AD) increases. AD = C + I + G + XN
2. Like all demand curves, AD increases to the right and decreases to the left
3. Price level is the key determinate of aggregate demand. Holding non-price level determinants constant
yields the following analysis of why price levels and aggregate demand are inversely related.
a. Interest rate effect
1. If the price (inflation) is low, interest rates will be low causing consumption and investment to be high
increasing AD.
2. This is especially true now that home mortgages are easily refinanced at lower interest rates.
b. Real asset balance effect as low inflationary expectations cause people think their past accumulations
(savings) will maintain their value. causing people to spend more which increases AD.
c. Low domestic inflation relative to foreign inflation results in low-priced exports selling better which
increases AD d. High price levels will bring opposite results
4. Non-price level determinants of aggregate demand and their determining characteristics
a. Consumption (C). Increased expectation of wealth caused by more overtime, debt decreasing by
refinancing a home at lower interest and taxes going down all increase consumption.
b. Investment (I) Increased profit expectations, decreased business taxes, low excess capacity, and
positive technology outlook all increase investment. .
c. Government Spending (G)
d. Net Exports (XN) (exports minus imports) are determined by economic activity abroad and exchange rates
5. Price level and non-price level factors together determine aggregate demand which interacts with aggregate
supply to determine total economic activity.
C. Aggregate Supply is a schedule of the amounts of Real Gross Domestic Product companies are willing to
produce at various price levels.
1. Holding non-price determinants constant yields the following analysis of how different price levels affect AS.
2. Keynesian Range: increases in AD increase real GDP and prices do not change
3. Intermediate Range: both prices and real GDP change
4. Classical Range: increases in AD increases prices and real GDP does not change because full
employment exists
5. Non-price factors affecting aggregate supply factor price decrease, productivity increases and
increased domestic and foreign tranquility all will increase AS