V. Functions and History of the FED
A. Functions
1. Regulate the money supply
2. Check collection and clearing
3. Fiscal agent for the government
4. Supervise and audit member banks
5. Hold reserves (deposits) for member banks
6. Compile economic statistics such as the
Latest Beige Book quarterly summary of
each districts' recent economic activity.
7. Readings
a. Full Employment Mandate of the Federal Reserve
b. Federal Reserve System Purposes and Functions
c. Lender of last resort
8 Sundry
a. Should FED manage Asset Price
b. Why Are Banks Regulated?
c. Did Dodd-Frank Act Make Financial System Safer?
d. Blind Spots in Shadow Banking 3/24/17
Unit V. Review Functions include regulate money supply, check processing,
federal fiscal agent, supervise audit financial system, hold reserves,compile the Beige Book 1.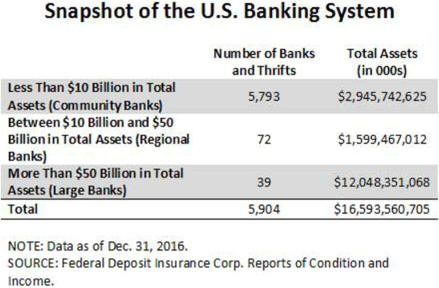 Stay Current With
Global Economic Intersection Newsletter
Latest Beige Book
Economy Continues to Grow Modestly
B. FED Powell's Annotated Press Conference 4/29/20
C. The Fed's Coronavirus Response in Historical Perspective
D. History
1. The Bank that Hamilton Built
2. ANDREW JACKSON took on the eastern bankers,
vetoed the charter extension of the Second Bank
of the United States because he felt it had excessive
power over farmers.
3. THEODORE ROOSEVELT took on the corporate
monopoly Trusts that control railroad rates and
routes and thus destroyed small towns and farms.
a. Panic of 1907
b. T.R. vs. J.P
4. Nixon Shock inflationary pressure and French President
De Gaulle force the US to stops the convertibility of
dollars to gold and a new mandate adds low
unemployment to the job.
5. Cooperation, conflict and the emergence of the FED
6. Greenspan's Latest Bio
a. The Man Who New Video
b. Book review from Brookings is a good summary
7. Other Histories
a. Enslavement: The History of The Federal Reserve video
b. A Century of U.S. Banking: Fall 2013 Ben Bernanke
c. How the Federal-reserve-was-created-100-years-ago
d. Philadelphia Reflections: Whither, Federal Reserve?
is a well done, concise history of banking in the
e. President at War With His FED Over 5 Decades
VI. Fractional Reserve System/Creation of Money
A. Commercial banks are required to keep a reserve (cash)
of about 12% of their demand deposits (checking
accounts) at their bank or on deposit with the Federal
Reserve (required reserves). The remainder, (Excess
Reserves) may be loaned out even though they support
deposits.
B. Money is created by these loans as long as the demand
deposits (DD) created by them stay within the banking
system, that is, the money loaned is redeposit as a DD
into a bank within the system. The banks owe the demand
deposits created by the loans to each other. These inter-
brain debts are canceled with a bookkeeping entry.
It should be pointed out that the demand deposits created
by such loans are spent, and goods transferred, just as
if the transaction involved currency.
C. Example: Bank A has $50,000 in demand deposits.
A reserve requirement of 10% would yield required
reserves of .10 x $50,000 = $5,000. If Bank A had
$7,000 in reserve, it could loan up to $2,000 in the
form of demand deposits. Suppose Bank B does
exactly the same with both banks' customers
depositing their DD in the other bank. Banks would
owe cashed checks to each other, would cancel
interbank debts, and money has been created.
D. The system works in reverse with money destroyed
if reserves leave the system.
E. Required reserves, reserves not loaned, and
loans of cash (reserves) represent a leakage
which eventually stops money supply growth.
F. Readings and Video
1. Today's Source of Money Creation
2. The Truth is Out: Money is Just an IOU and
the Banks are Rolling In It
3. Money Creation in the Modern Economy
4. Money Creation Video 13.03 minutes is well done

Unit VI. Review Banks allowed to hold less in reserves than
demand deposits creating money for borrowers.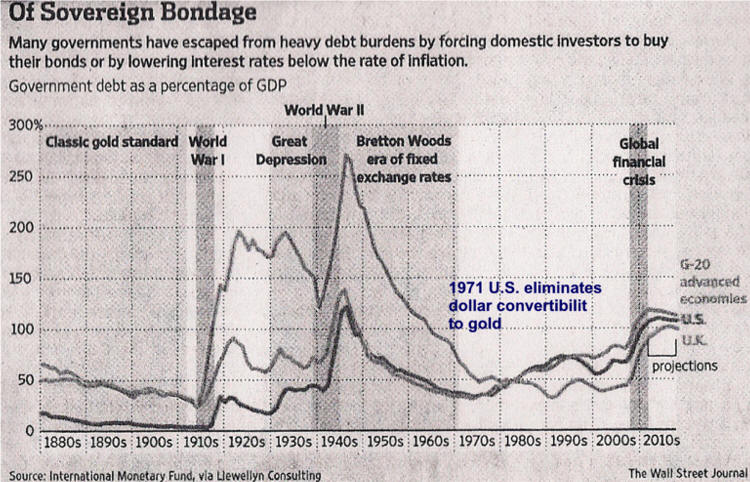 Source and prediction of coming inflation A. Laffer, 6/11/14
Source and prediction of coming inflation A. Laffer, 6/11/14