I. The Demand for Money
A. Transaction 1, D1 results because people hold money, often in
a money market account, to use as a medium of exchange.
B. Transaction 2 Asset Demand D2 results because people accumulate money,
often held in an investment account, to buy assets and other needs
C. The demand for money, Dm= Dt + Dt
D. For more information visit Demand for Money - Wiki
E. Affecting the non-investment components of aggregate demand
1. Lower interest rates also increase C, G, and XN
a. Consumption increases as credit purchases become cheaper.
b. Refinancing existing debt at lower interest rates by individuals, businesses,
and governments frees funds for spending.
c. Lower interest rates also decrease the international value of the dollar as
investors buy (demand) other currencies to earn more interest. The lower
dollar increases XN as U.S. goods are less expensive and foreign goods
more expensive.
2. Higher interest rates have an opposite affect
3. Currency Exchange Rates and Economic Activity
a. Value of a currency determines price of import and export goods
b. Increase in money supply cause inflation lowering the value of currency
making exports cheaper and imports more expensive.
c. Exports increase as they are less expensive in real terms and imports
decrease as conversion to yen makes Toyota's more expensive
d. Readings
1. A strong Dollar is Always Good Except When It Isn't. 1/24/15
2. U.S Government's Problem With a Strong High Valued Dollar 2/5/15
3. A Brief History of U S Dollar Debasement 1/8/13
F. Federal reserve balance sheet.
1. Assets are held in securities and loans to commercial banks.
2. Liabilities and net worth are the reserves of commercial banks-
treasury deposits, federal reserve notes, equity-accumulated profits.
G. Summary: Monetary Policy is the regulation of the money supply to
affect interest rates which economic growth.
Average ratio to GDP of unsecured and
mortgage bank credit
Ratio of total mortgages to
total value of U.S. housing stock
Source: Jordà, Schularick, and Taylor (2016).
III. Types of Monetary Controls
A. Quantitative affect the money supply.
1. Required Reserve Ratio
a. Lowering the reserve ratio creates excess reserves which banks may loan
as newly created money. This is expansionary.
b. Raising the reserve ratio eliminates excess reserve so banks can not renew
loans removing money and causing a contraction.
2. Open-market operations
a. Buying and selling of U.S. government bonds by the Federal Reserve from
banks or in the open market to change excess reserves thus affecting the
supply of M1 and interest rates is the primary tool.
b. Buying bonds is expansionary.
1) When buying from banks, the Federal Reserve pays with reserves
providing excess reserves banks can loan as demand deposits.
2) When buying in the open market, increased demand from the
Federal Reserve pushes up prices sellers receive, lowering the
effective interest sellers pay.
c. Selling bonds contracts the economy.
d. Review of Valuing bonds
1) Suppose you buy a twenty year, $10,000 bond paying 5% per year
at face value of $10,000. Face value is called par value.
a) A few years go by and you need money and one choice is to sell the bond.
b) If interest rates on this type bond have gone down, people will be very
anxious to buy, demand, will be high pushing price up and you will receive
more than $10,000.
c) If rates have gone down, no one will give you $10,000, demand will be low,
so if you need the money, you will sell for less, below par.
d) You can hold for 20 years and get par.
2) Therefore, interest rates and bond values (prices) go in the opposite direction.
If rates fall, old bond price rise as the old higher rate is attractive to buyers.
3) This is called the interest rate risk for bonds. Other risks have to do with issuer
default and monetary inflation.
e. Federal Open Market Committee minutes make interesting reading.
f. It is the most powerful of the four tools.
g. Historical Note on lender of last resort type actions before there was a central
bank began in response to the Panic of 1837 (U.S. first great depression. source
1. "The Secretary of the Treasury, Salmon P. Chase, bought $13.5 million in
National 5-20 bonds, but this tepid government response did little
to calm the markets (Juglar 95)." Tepid response would be used to describe
FED actions during Great Recession.
2. "The New York Clearing House had two tools at its disposal for combating
banking panics and liquidity crises, in the form of loan certificates and
reserve pooling."
3. Discount rate
a. This is the rate charged by the Federal Reserve for loans to member banks.
b. It strongly affects the prime interest rate paid by a bank's best customers.
1) Lower the rate to expand economy as interest rates decrease.
2) Raise the rate to contract economy as interest rates increase.
3) Another important interest rate is the federal funds rate which is the rate
at which banks loan funds to each other.
4. Term Auction Facility
a. Initiated in 2007, it allows banks to add to their reserves at low rates.
b Done to increase bank liquidity which was low because of a loss in
reserve caused by a housing crisis.
5. Adjusting to The Great Recession
a. How Fed Adjusted Tools to Combate Great Recession 1
b. How Fed Adjusted Tools to Combate Great Recession 2
B. Qualitative controls affect the actions of market participants.
1. Moral suasion or jawboning
a. This social pressure by influential people to encourage specific people
to act in the public interest.
b. It is used to influence public opinion and political attitudes.
c. An example is when the Chairman of Board of Governors makes his
Semiannual Report to Congress on the economy and monetary policy.
2. Margin Requirements, the down payment required on stocks which is
now 50%, is seldom changed.
3. Consumer Credit Controls credit cards work so well they are seldom used.
4. The Federal Funds Rate
a. Most controllable interest rate
b. Targeted by monetary policy
c. It is the overnight interest rate banks with excess fed reserve charge
each banks short of fed reserve to keep the system in balance.
d. By controlling reserves, the fed controls this rate.
e. This allows them some control over short-term rates.
f. For more information visit Federal funds rate - Wikipedia
g. Taylor rule affected by Fed's QE policies. 2/3/14
1. Taylor rule would have kept millions out of work (Minneapolis Fed) 1/17
2. A Taylor Rule for Public Debt
C. Monetary Policy Internet Game lets you be the FED chairperson.
D. Great Recession Brought New Tools
1. Quantitative Easing unconventional increases the money supply
2. Paying higher interest on bank excess reserves
a. Limits effectiveness of excess bank reserves
b. In creases bank liquidity of banking system
3. The Federal Reserve's Monetary Policy Toolkit: Past, Present, and Future
4. 9 Facts About the Great Recession and tools for fighting the next downturn
5. Shrinking the FED' Balance Sheet/ 1/26/17
6. Relying o the FED's Balance Sheet 2/25/18
E. Summary
Quantitative: affect the money supply: with required reserve, open-market
operations, discount rate, term auction facility
Qualitative: affect financial participation with moral suasion, margin requirements,
consumer credit controls
F. Reading
1. The Brave New World of Monetary Policy SF FED explains
policy change resulting from the Great Recession 6/6/12
2. The Post Keynesian View-of Monetary Policy 12/10/15
3. Are The Effects Of Monetary Policy Asymmetric? Richman Fed 3/12/17
IV. Implementing Monetary Policy
A. Elements Of Monetary Policy Implementation Framework 1 of 4
B. Counterparties And Collateral Requirements Of Implementing Monetary Policy 2 of 4
C. How Do Central Bank Balance Sheets Change In Times Of Crisis Part 3 of 4
D. The Trouble With Macroeconomics centers on the failures of monetary policy
E. FED answers fiscal policy questions
1. What is the money supply? Is it important?
2. What are the Federal Reserve's objectives in conducting monetary policy?
3. Why doesn't the FED just buy Treasury securities directly from the U.S. Treasury?
4. Debt Monetization: Then And Now 4/14/18
Summary: Internet articles on difficulty of implementing monetary policy
V. Effectiveness of Monetary Policy
A. Strengths
1. Speedy and flexible
2. Somewhat isolated from political pressure
3. Hard money, restrictive Federal Policy, has
worked well recently.
B. Weaknesses
1. Easy money has not worked well.
a. In the early 1900's, it didn't stop a recession.
b. Low profit expectations by business and fears
over possible employment loss by workers make
lower interest rates ineffective.
c. Interest rate cuts in 2001 were not able to stop
a recession as borrowing as indicated by velocity slowed.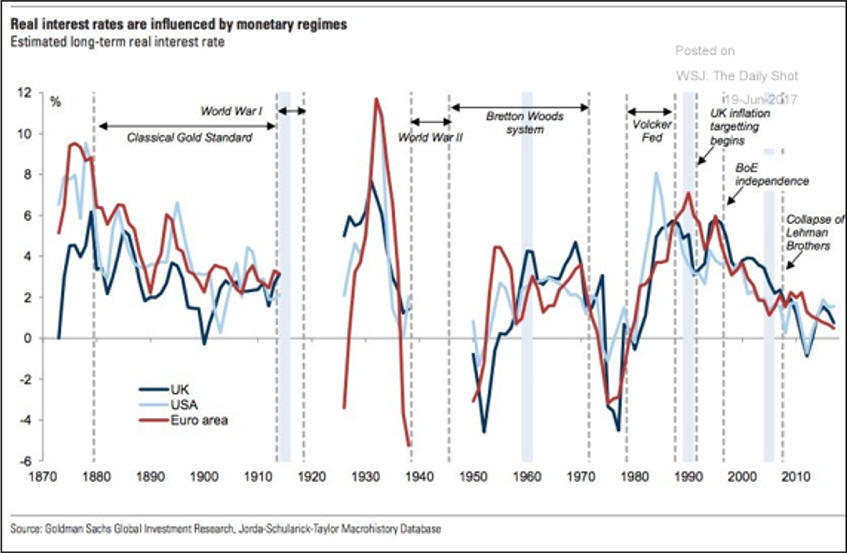 2. Bank deregulation has made commercial banks a less
important supplier of investment funds thus diminishing
the effectiveness of monetary policy.
3. Changes in money velocity may negate some effects
of monetary policy.
4. Fall in real interest rates increase demand for fixed assets.
C. Euro Monetary Policy Failed
D. Summary:
Strengths: speedy, flexible, less political pressure,
works well controlling inflation but with pain
Weaknesses easy doesn't spur enough growth,
velocity adjusts to counter reserve changes.
Recent Effectiveness

Hope FED is Prints
the Correct Amount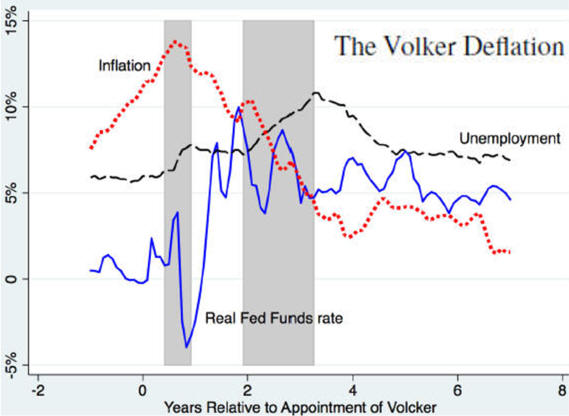 So Far So Good